10 Films You Must See From Sundance 2014
February 25, 2014 by SundanceTV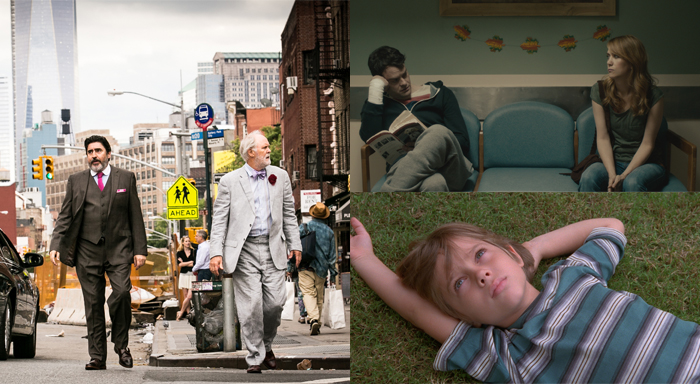 What movies will you be clamoring to see from 2014's Sundance Film Festival? We've got 10 favorites of critics and fans—many of which have already secured distribution—to satisfy whatever you're into, from comedy to documentary, thriller to romance.
1. A Most Wanted Man
Based on the John le Carré novel and directed by Anton Corbijn (The American, Control), this thriller explores the often-unsavory international hunt for terrorists. With an exceptional cast including Philip Seymour Hoffman, Robin Wright, Rachel McAdams and Willem Dafoe.
2. Boyhood
Shot a little bit at a time over 12 years, director Richard Linklater's Boyhood magnificently captures a child's evolution into young adulthood. It's scope is reminiscent of Paul Almond's Seven Up! series but with a tighter focus and a fictional story interwoven with the real-life experiences of its star, Ellar Coltrane. Truly a once-in-a-lifetime endeavor.
3. Cold in July
Jim Mickle (We Are What We Are, Stake Land) returns with another atmospheric and tension-filled drama, this time about a Texas family man (Michael C. Hall) who shoots dead a home intruder. When the intruder's father comes seeking vengeance, he's forced to defend himself and his family. Chilling, mysterious, gory, it cements Mickle as a new master of the genre.
4. Dear White People
It's a pointedly contemporary filmmaking model: inspired by a Twitter account, funded through an Indiegogo campaign and written-directed by an emerging star, Special Jury Award winner for Breakthrough Talent Justin Simien. This biting satire raises Big Issues about race and identity with hysterical college-life insight.
5. Dinosaur 13
The intersection of science, commercial enterprise, Native American tribal land, the federal government and the public good are examined in this documentary about the groundbreaking discovery of "Sue," the largest complete T.rex specimen ever.
6. Life Itself
Based on the autobiography of popular (and populist) film critic Roger Ebert, this documentary is a fitting tribute to a champion of movie lovers. Far from candy-coated adulation, though, Steve James' work is an honest look at the man, including faults, and his monumentally influential career. Two thumbs way up.
7. Love Is Strange
Starring the actor's actor dream team of John Lithgow and Alfred Molina, Ira Sachs' love story about a couple who have just gotten married after nearly four decades is an ode to New York, relationships and aging together. Beautiful, moving, funny…we're in love.
8. Only Lovers Left Alive
There are vampire love stories and then there's Jim Jarmusch's take on the vampire love story. Tom Hiddleston and Tilda Swinton are exquisite as ancient immortals whose romance spans centuries and continents, dipping into music and literature and the nature of life and love itself. With wickedly good supporting turns by Mia Wasikowska and John Hurt.
9. The Skeleton Twins
Dysfunctional sibling dynamics are taken to dizzying heights in Craig Johnson's family drama (which earned him the festival's U.S. dramatic screenwriting award, with Mark Heyman). Saturday Night Live alums Kristen Wiig and Bill Hader play Maggie and Milo, estranged twins who, upon reuniting, discover that much of their individual failures at happiness can be traced back to their defective relationship with each other.
10. Whiplash
Winner of both the U.S. Grand Jury and Audience Dramatic awards, Whiplash is a critic-pleasing, crowd-thrilling story of a young jazz drummer (Miles Teller, who is a revelation) and his ultra-intense training at a premiere music school. Veteran character actor J.K. Simmons gives the performance of his career as a relentless teacher.
Check out the Michael Cera short Gregory Go Boom(below) which won the Short Film Grand Jury Prize in 2014.
Click here to see more Shorts on SundanceTV.
[brightcove video=4473901637001 autostart=false og=false]