13 Documentaries You Can't Miss from Sundance 2014
February 21, 2014 by SundanceTV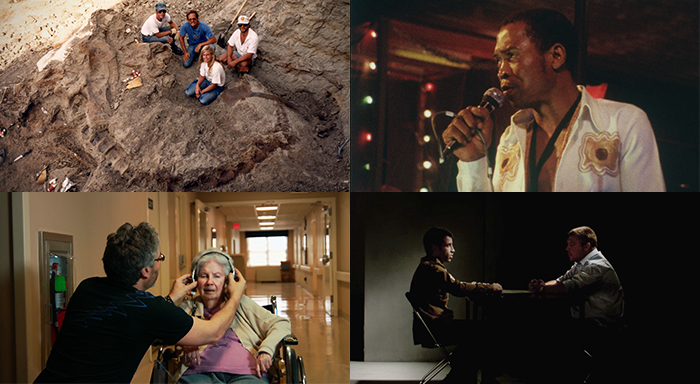 Documentaries do something for us no other film format can—they not only entertain, they tell true stories we need to hear. Those stories at the 2014 Sundance Film Festival cover the gamut from tormented Internet visionary Aaron Swartz to revolutionary Nigerian music legend Fela Kuti—and they're all essential viewing.
1. Alive Inside: A Story of Music and Memory
Five million Americans suffer from Alzheimer's disease and dementia—many of them alone in nursing homes. A man with a simple idea discovers that songs embedded deep in memory can ease pain and awaken these fading minds. Joy and life are resuscitated, and our cultural fears over aging are confronted.
2. Captivated: The Trials of Pamela Smart
In an extraordinary and tragic American story, a small town murder becomes one of the highest profile cases of all time. From its historic role as the first televised trial to the many books and movies made about it, the movie looks at the media's enduring impact on the case.
3. Dinosaur 13</strong>
The true tale behind one of the greatest discoveries in history.
4. Finding Fela
Fela Anikulapo Kuti created the musical movement Afrobeat and used it as a political forum to oppose the Nigerian dictatorship and advocate for the rights of oppressed people. This is the story of his life, music and political importance.
5. Happy Valley
The children of "Happy Valley" were victimized for years by a key member of the legendary Penn State college football program. But were Jerry Sandusky's crimes an open secret? With rare access, director Amir Bar-Lev delves beneath the headlines to tell a modern American parable of guilt, redemption and identity.
6. The Internet's Own Boy: The Story of Aaron Swartz
Programming prodigy and information activist Aaron Swartz achieved groundbreaking work in social justice and political organizing. His passion for open access ensnared him in a legal nightmare that ended with the taking of his own life at the age of 26.
7. Last Days in Vietnam
During the chaotic final weeks of the Vietnam War, the North Vietnamese Army closes in on Saigon as the panicked South Vietnamese people desperately attempt to escape. On the ground, American soldiers and diplomats confront a moral quandary: whether to obey White House orders to evacuate only U.S. citizens.
8. Life Itself
Life Itself recounts the surprising and entertaining life of renowned film critic and social commentator Roger Ebert. The movie details his early days as a freewheeling bachelor and Pulitzer Prize winner, his famously contentious partnership with Gene Siskel, his life-altering marriage and his brave and transcendent battle with cancer.
9. The Green Prince
This real-life thriller tells the story of one of Israel's prized intelligence sources, recruited to spy on his own people for more than a decade. Focusing on the complex relationship with his handler, The Green Prince is a gripping account of terror, betrayal and unthinkable choices, along with a friendship that defies all boundaries.
10. The Notorious Mr. Bout
Viktor Bout was a war profiteer, an entrepreneur, an aviation tycoon, an arms dealer and—strangest of all—a documentary filmmaker. The Notorious Mr. Bout is the ultimate rags-to-riches-to-prison memoir, documented by the last man you'd expect to be holding the camera.
11. The Return to Homs
Basset Sarout, the 19-year-old national football team goalkeeper, becomes a demonstration leader and singer and then a fighter. Ossama, a 24-year-old renowned citizen cameraman, is critical, a pacifist and ironic until he is detained by the regime's security forces.
12. Web Junkie
China is the first country to label "Internet addiction" a clinical disorder. Web Junkie investigates a Beijing rehab center where Chinese teenagers are deprogrammed.
13. Whitey: United States of America v. James J. Bulger
Infamous gangster James "Whitey" Bulger's relationship with the FBI and Department of Justice allowed him to reign over a criminal empire in Boston for decades. Joe Berlinger's documentary chronicles Bulger's recent sensational trial, using it as a springboard to explore allegations of corruption within the highest levels of law enforcement.
For more from SundanceTV, download our app, available for iOS and Android.