6 Questions With Sundance Festival Photographer Henny Garfunkel
January 11, 2015 by SundanceTV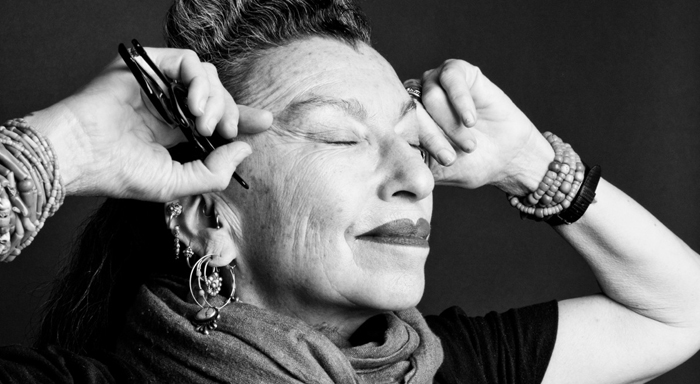 Photo by Jeff Glaab
Veteran Sundance Film Fest photographer Henny Garfunkel discusses the evolution of the festival, famous friends and the trick to taking great portraits.
Q: You've been photographing celebrities at Sundance since 1994. Can you share a few memorable celebrity interactions at the fest?
A: One of my favorite portraits was of Jennifer Tilly, Gina Gershon and Joe Pantoliano in a hot tub for Bound, which was the Wachowskis' first film. That was really fun … Or putting David Arquette and Lukas Haas in a public men's room; they were there with a film called Johns, so I photographed them like this because it was about these hustlers … Or Jackie Chan. I had him meet me at a snowboarding place, and he snowboarded a little in front of the shop. I put Lady Bunny in full drag hanging off the Park City tram, Ben Affleck on someone's porch, Darren Aronofsky crouched in an alley, Vin Diesel on a bed and stuff like that. There was more time to be creative and include various spots around Park City.
Q: How has the festival changed since you first started going? Has your approach to getting celebrity portraits changed as well?
A: I remember going to Sundance at the invitation of my good friend Joe Dolce, who was an editor for Details at the time, and I basically went with no preconceived notions. I'd only been to one film festival previous to that – Toronto. I had been living in New Mexico at the time, and he said, "Just come and meet me, maybe you'll do some pictures and see what it's like." The festival was really small at the time and a lot of fun. The parties were small and many times there were dinners at different houses, and it was just a whole different ball game. All of the press seemed to take place out of one building – it was called Z Place at the time, and that seemed to be the hub of the festival. The town was much less developed back in the 1990s, so you would just see people on the street, and I met different film publicists and they asked if I wanted to photograph their talent. And while I was there I had gotten a call from Entertainment Weekly, and they had asked me to photograph specific people for them. They published my photos that year and subsequently they started sending me to Sundance for six years after that to do their Sundance coverage. So it really snowballed from there, and I have worked for many different outlets since. Each year you could see where the festival was getting a bit more popular, a bit bigger, more people were coming and attaching themselves to the festival and so on and so forth. Now it's a large festival in a still-small town – and the town is really taken over for those 10 days each January. It's very branded and very produced. The mission of the festival has always stayed the same. Discovering great stories, important stories, and introducing the world to new talent. It's all the other stuff that has attached itself to the festival that has changed.
My background in photography is more reportage and street photography. [In my early years] I would try to do something that had a sense of place with Park City, with Sundance, with the film … try to do something in that way. That's not the way I photograph now. Now everything is in a dedicated studio and the talent is brought to me, and we have to make something work within that framework, and try to have fun within a small space, and quickly.
Q: What are your tips or tricks for getting celebrities to loosen up on camera with you?
A: Certainly, the more well-known talent is quite used to getting photographed. I try to get someone to emote, and to have some fun together. I keep it simple. I approach celebrities in the same way I may approach someone I have just met (who is not a celebrity): talking with people, talking about different things and having them tell me about their film, things of that sort, breathe … Just little techniques to break the ice, make people feel at ease with me, make a connection and trust me. I try to make people relax, and show me "what they've got." And once it starts going, they get a sense that this is not like going to the dentist and I'm not there to torture them. I'm there to make them look good. So just working with them and creating an atmosphere where good photos happen.
Q: What kinds of celebrity portraits or situations with celebrities do you get most excited about?
A: Obviously I'm trying to get a beautiful photograph, or something dramatic, so I love when there are some spontaneous moments within that, when spontaneity is allowed to happen and I can get something special, perhaps humorous. And good energy. I love when someone is open to anything. So in the past, when I was not in a studio, it would be like Jared Leto on the slopes, Giancarlo Esposito on a rooftop or Patricia Arquette in a bed … but when working in a studio it's sort of like playing around with how comfortable and relaxed the person is. It is a collaboration in many ways and the goal is a good portrait. In 2014, Jason Momoa came to the studio. We had never met, and he didn't seem that at ease. We started talking, and I noticed he was wearing some great clothes, and had some funky hat and such. I had him sit down, and we started playing around, and it flowed from one thing to another, and by the end, he had taken off his sweater, and I uncovered his fantastic tattoos, and the combination of his clothing, his hat and the tattoos, his attitude, just made for some great images. When it flows organically like that, it's a fantastic shoot together, and a great scenario!
So there needs to be a framework of relaxation. That's very important to me. And trust. And we have to work really fast because there are many people coming through each day. I'm on a schedule, they're on a schedule. We're passing through each other's lives, I always say, for a few moments, and we try connect, to make something great happen in a given amount of time … So I like to put people on the floor, I like to consider what they're wearing, play around with their glasses, or maybe there's a prop of some sort that we can use … I have to really work fast and decide what we can do if they agree to do it.
Q: You're also pretty recognizable. Do celebs often want photos with you?
A: Yeah, they do. And as I said, I've known a lot of the same people for many years, and they may be familiar with my work. We are glad to see each other again! Also, going to Sundance – because it's the first big festival of the new year and people haven't seen each other since the last festival, or the holidays or for a long time – to me it's like Old Home Week. I bump into critics and filmmakers that I have known for many years, and many people I haven't seen for the past months … So in that way it's really great. Also, for the people that don't know me, my look may intrigue them or make them trust me completely and put them at ease. I'm usually really friendly, and do my best to create a relaxed atmosphere in whatever way I can! I think my look adds to my getting a good photograph!
Q: Whose face takes the best picture?
A: Well, obviously a lot of movie stars take great pictures. To name a few: Aaron Paul – I love photographing him, he's really adventurous in working together; Penelope Cruz is spectacular; Tilda's got a great face – you just can't take a bad picture of her; and I cannot forget to include Gael.
Journey all the way back to the 1994-1998 Sundance Film Festivals with our gallery of the Henny Garfunkel collection to see stars like Samuel L. Jackson and Reese Witherspoon 20 years back.
Want to know more? Check out 3 More Questions with Sundance Film Festival Photographer Henny Garfunkel.
Henny Garfunkel will be photographing Sundance 2015 for sundance.tv. Stay tuned.