Marjorie Prime Wins Alfred P. Sloan Foundation Feature Film Prize at Sundance 2017
January 27, 2017 by SundanceTV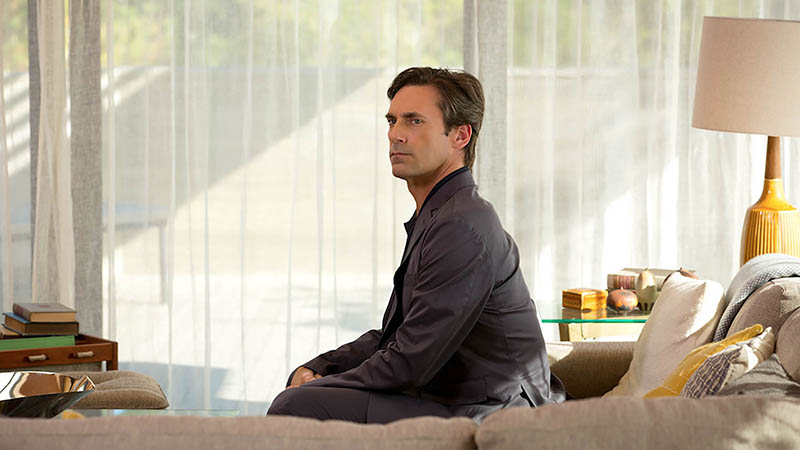 At a reception during the 2017 Sundance Film Festival, the beneficiaries of $60,000 in grants from Sundance Institute and the Alfred P. Sloan Foundation were revealed. Doron Weber, the Vice President of Programs at the Alfred P. Sloan Foundation, announced the winners: Michael Almereyda's Marjorie Prime won the Feature Film Prize; Adam Benic's Levittown won the Episodic Storytelling Grant; Darcy Brislin and Dyana Winkler's Bell won the Sloan Lab Fellowship; and Jamie Dawson and Howard Gertler's Untitled Smallpox Eradication Project won the Sloan Commissioning Grant.
The reception was preceded by an all-female panel on women in science and their onscreen portrayals (or lack thereof), with discussion of half a dozen films about women in science that were supported and championed by Sloan, including the hit film Hidden Figures. These activities are part of the Sundance Institute Science-In-Film Initiative, which is made possible by a grant from the Alfred P. Sloan Foundation.
"Support for these artists and their projects is more timely than ever," said Keri Putnam, Executive Director of Sundance Institute. "Telling nuanced, human stories about science and technology is the most effective way to drive understanding of the forces that play such a major role in shaping our world today."
"We are thrilled to partner with Sundance for the 14th year in a row and award the 2017 Sloan Feature Film Prize at Sundance to Michael Almereyda's Marjorie Prime," said Doron Weber, Vice President at the Sloan Foundation. "With cool intelligence, wit and poignancy—allied to a deft directorial hand and a stellar cast—Almereyda explores the emotional landscape of artificial intelligence and dramatizes the emerging impact of intelligent machines on our most intimate human relationships. Sloan is also delighted to award three new screenwriting grants at Sundance focusing on scientists and inventors who helped shape the modern world as part of our 'non-profit movie studio for science' and a national development pipeline which has resulted in 20 feature films to date."
Marjorie Prime: Winner of Alfred P. Sloan Feature Film Prize
Marjorie Prime has been awarded the 2017 Alfred P. Sloan Feature Film Prize and will receive a $20,000 cash award from the Alfred P. Sloan Foundation at this year's Sundance Film Festival. The Prize is selected by a jury of film and science professionals and presented to outstanding feature films focusing on science or technology as a theme, or depicting a scientist, engineer or mathematician as a major character.
Marjorie Prime / U.S. (Director and screenwriter: Michael Almereyda) — In the near future—a time of artificial intelligence—86-year-old Marjorie has a handsome new companion who looks like her deceased husband and is programmed to feed the story of her life back to her. What would we remember, and what would we forget, if given the chance? Cast: Jon Hamm, Geena Davis, Lois Smith, Tim Robbins.
The jury presented the award to the film for its "imaginative and nuanced depiction of the evolving relationship between humans and technology, and its moving dramatization of how intelligent machines can challenge our notions of identity, memory and mortality."
This year's Alfred P. Sloan jury members were Heather Berlin, Tracy Drain, Nell Greenfieldboyce, Nicole Perlman and Jennifer Phang.
Previous Alfred P. Sloan Prize Winners include: Ciro Guerra, Embrace of the Serpent (2015); Mike Cahill, I Origins (2014); Andrew Bujalski, Computer Chess (2013); Jake Schreier and Christopher Ford, Robot & Frank (2012); Musa Syeed, Valley of Saints (2012); Mike Cahill and Brit Marling, Another Earth (2011); Diane Bell, Obselidia (2010); Max Mayer, Adam (2009); Alex Rivera, Sleep Dealer (2008); Shi-Zheng Chen, Dark Matter (2007); Andrucha Waddington and Elena Soarez, House of Sand (2006); Werner Herzog, Grizzly Man (2005); Shane Carruth, Primer (2004) and Marc Decena, Dopamine (2003). Several past winners have also been awarded Jury Awards at the Festival, including the Grand Jury Prize for Primer, the Waldo Salt Screenwriting Award for Sleep Dealer and the Excellence in Cinematography Award for Obselidia.
To support the development of screenplays with science or technology, Sundance Institute and the Alfred P. Sloan Foundation provide three different opportunities for screenwriters through a Commissioning Grant, a Lab Fellowship and an Episodic Storytelling Grant. All provide a cash award to support further development of a screenplay and to retain science advisors, along with overall creative and strategic feedback throughout development.
Sundance Institute / Sloan Commissioning Grant
Jamie Dawson and Howard Gertler will receive a $12,500 cash award from the Alfred P. Sloan Foundation at this year's Sundance Film Festival. Previous winner's include Alex Rivera's La Vida Robot and Robert Edwards's American Prometheus.
Untitled Smallpox Eradication Project / U.S. (Writer: Jamie Dawson, Producer: Howard Gertler) — In 1965, the World Health Organization orders a massive operation to eradicate the deadly smallpox virus from the human population. A ragtag band of very different personalities—from ashram hippies to tenacious scientists to tactical bureaucrats—clash and collaborate as they fight to pull off the impossible.
Jamie Dawson is a New York native and graduate of NYU's Tisch School of the Arts Film Program. He has sold or optioned work to companies such as BCDF Pictures, Manage-ment/Dan Halsted, Formation Entertainment, and Permut Presentations. Projects in development include: The Rabbit Garden, his Black List script about controversial author Jerzy Kosinski (Being There) with producer David Permut and director Janusz Kaminski; and Swan Song, a television series based on the award-winning, cult classic novel by Robert McCammon (Boy's Life).
Oscar-nominated producer Howard Gertler's credits include David France's How to Survive a Plague, which premiered in competition at Sundance 2012 and was released by IFC Films/Sundance Selects; in addition to the Academy Award nomination, the film collected New York Film Critics' Circle, Peabody, IFP Gotham, IDA and GLAAD Media Awards. He's both an IFP/Gotham and Film Independent Spirit Award winner, the latter of which he won for producing John Cameron Mitchell's Shortbus, which premiered in the official selection in Cannes and was released worldwide. His upcoming films include John Cameron Mitchell's adaptation of Neil Gaiman's How to Talk to Girls at Parties, produced with See-Saw Films, Film4, Ingenious and Screen Yorkshire, to be released by A24 and Studiocanal UK in 2017.
Sundance Institute / Sloan Lab Fellowship
Darcy Brislin and Dyana Winkler will receive a $15,000 cash award from the Alfred P. Sloan Foundation at this year's Sundance Film Festival. Previous winners include Logan Kibbens's Operator, Michael Almereyda's Experimenter, and Rob Meyer's A Birder's Guide to Everything.
Bell / U.S. (Co-writers: Darcy Brislin and Dyana Winkler) — At a pivotal point in history, hearing society began a golden age of communication with the advent of the telephone, while deaf society plummeted into a dark age with the eradication of sign language and spread of eugenics. At the helm of both trajectories stands a single man—Alexander Graham Bell. This project was the recipient of the 2016 Sundance Sloan Commissioning Grant.
A Boston native, Darcy Brislin studied Art History and French at the University of St. Andrews in Scotland. She received an MFA in screenwriting and directing from EICAR, the International Film School of Paris, where she met co-writer Dyana Winkler. Currently based in Los Angeles, Brislin has written screenplays with Sundance award-winning director Ondi Timoner and has a feature film in development entitled Crown Chasers, with Maria Bello attached to produce.
Dyana Winkler is a writer, director and producer based in Brooklyn. Her most recent film, a feature-length documentary entitled United Skates, is currently in post production and has received awards from the Sundance Institute, New York State Council For the Arts, Fledgling Foundation, Film Independent, Chicken & Egg, IFP, and many more. Winkler met her writing partner, Darcy Brislin, in Paris, France, while completing their MFAs in screenwriting and directing, and discovered their shared passion for casting new light on historical figures. They went on to write their first screenplay Turing, and have teamed up for a second time with Bell, which was the recipient of the 2016 Sundance Sloan Commissioning Grant.
Sundance Institute / Sloan Episodic Storytelling Grant: Levittown
Adam Benic will receive a $12,500 cash award from the Alfred P. Sloan Foundation at this year's Sundance Film Festival.
Levittown / U.S. (Writer and creator:Adam Benic) — A one-hour drama series about visionary WWII veteran, Lieutenant William Levitt, who on his 40th birthday broke ground on the largest private construction project in American history. Alongside his attorney father and architect brother, Will fights against an antiquated industry to fill the massive postwar housing need, thus building the world's first mass-produced suburb, Levittown, Long Island.
Adam Benic is a Writers' Assistant on TNT's Animal Kingdom, and formerly a Showrunner's Assistant on Hulu's Shut Eye, CBS's Extant, and a graduate of AFI's MFA Screenwriting program. Adam hails from Long Island, New York where he grew up in a Levitt home.
Keep up with festival news—view photos from the 11 Sundance 2017 Films Getting Buzz.