Amanda Knox and Filmmaker Joe Berlinger Discuss Ted Bundy in This Sundance 2019 Bonus Episode of The Truth About True Crime
February 1, 2019 by Celia Quinnette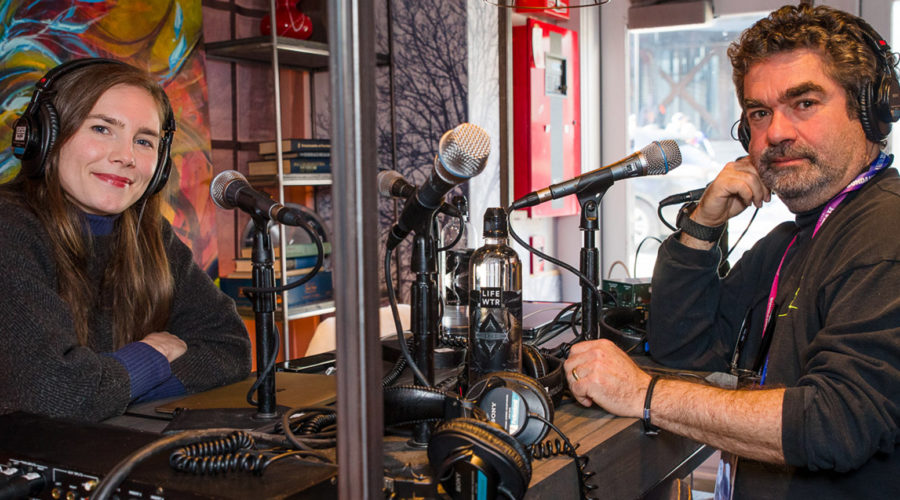 Fans of The Truth About True Crime with Amanda Knox podcast can now listen to a special bonus episode with filmmaker Joe Berlinger recorded at the SundanceTV HQ Podcast Studio during the 2019 Sundance Film Festival.
In the episode, Amanda sits down with filmmaker Joe Berlinger to discuss his new film starring Zac Efron as infamous serial killer Ted Bundy — Extremely Wicked, Shockingly Evil and Vile.Amanda and Joe dig into the nuances of resurrecting the sensationalized media story that surrounded more than thirty homicides of young women in seven states, what it was like to adapt the story of an undeniably guilty killer after working on numerous documentaries that deal with the wrongfully convicted, and how the director helped his actors get into the headspace of this gruesome tale.
Listen to the discussion below, recorded on January 29, 2019, and be sure to subscribe on Apple Podcasts, Google Podcasts, Spotify, or wherever you listen, to be notified about the next season of The Truth About True Crime with Amanda Knox, which will cover Ministry of Evil: The Twisted Cult of Tony Alamo.
Want more? Discover the first season of the podcast, in which Amanda Knox unravels the Jonestown Massacre.